Art Sparks Creative Projects Deck Blog Hop
This week I received a hot-off-the-press Art Sparks Creative Projects Deck by Karen Friedland! Talk about eye candy and inspiration! (Keep reading because Karen has a special offer for you!! Check out other artists playing with Art Sparks, too.)
Today, I finally had time to crack open this new deck of yumminess. The cards are nice quality with a variety of Karen's artwork on one side along with unique Art Sparks creative projects on the other side of each card.
Card number 30 grabbed my attention and I snapped photos as I began playing. First, let me tell you what the card suggested. (photos below)
"Use Heavier Paper, 90lb. or 140lb. watercolor or printmaking paper. Dampen the paper with a water mister. Paint on the damp surface with a fluid paint and watch what happens. Try dripping water or another color into the paint. Did you embrace the lack of control with paint on wet paper?"
I pulled out a couple of sheets of 9″ x 12″ Artist's Loft Watercolor Paper and sprayed one liberally with water. Into the water I dropped a couple of tiny drops of Golden Fluid acrylics in Manganese Blue Hue, Ultramarine Blue, Quinacridone Crimson, Phthalo Green (Blue Shade) and Green Gold.
Watching the paints spread and bloom in the water was so much fun! If a little water is good, more must be better, Right? So, I sprayed the page again and even more movement happened. Fascinating! Things were getting really soppy, so I picked up the second sheet of paper and pressed it into the wet paint. When I pulled the two sheets apart, I had 2 beautifully colored pages that were nearly identical.
Just for fun, I diluted a drop of Carbon Black and splattered it on the pages. Time to dry. Fingers tapping. Waiting. Waiting . . . 🙂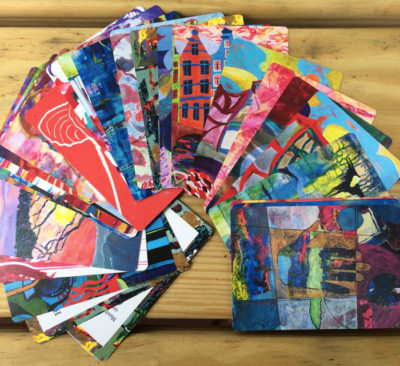 Once the pages dried, I repeated splatters in Carbon Black and also Golden Fluid Iridescent Gold Deep Fine. Loved it!
After drying the pages, I used 2 different hand carved stamps and black Archival Ink to add some large images around the pages and details with a Black Gelly Roll Pen and Fineline Bottles filled with Golden Fluid Cobalt Teal and Createx Airbrush White Paints.  
This picture shows you Karen's beautiful artwork on the cards —>
Take a look at the photos below to see my process. Click photos to see details.
From my 2 Art Sparks Creative Project pages, I cut 8 card fronts and 5 bookmarks. Only a tiny scrap found its way into the trash! To complete the cards, I added words from Tim Holtz Big Chat Stickers.
I love them and it was a fun few hours of creative me-time!
I have 1 Art Sparks Creative Projects Deck to give away!! Be sure to leave a comment below. Please leave contact info, too. Good luck everyone!
Remember to Get Creative today! It's easy!
Barb
PS – Check out Tiare Smith today and she what she's creating with Art Sparks. And, check out Gina B. Ahrens and Melissa from Color Me Happy tomorrow, November 3, 2016. Purchase your Art Sparks Creative Deck and enter coupon code ARTSPARKSINTRO for 10% off until November 30, 2016!
P.S. Please leave a comment below.