Woodburning and Scribble Sticks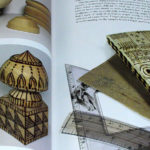 I find inspiration everywhere! Do You? One of my favorite idea magazines is Somerset Studio. In the May/June 2017 issue, Michelle Ward wrote an article about woodburning. Her article really inspired me to get out my tools and play, so thank you Michelle!
In my stash of supplies, I found some white pine raw wood houses. Time to play! I tried a couple of ideas. First, I stamped a flower outline stamp and then lightly sketched some stems with a pencil. From there, I burned
the design with a Creative Versa Tool by Walnut Hollow and embellished it with various woodburning points (shaped metal tips that are included with the tool.) 
I also have a Creative Hot Marks tool. The difference between this and the Versa Tool is the switch. The Versa Tool features a temperature control switch while the Hot Marks tool has an off-on switch only.
For the second and third houses, I divided them into sections and sketched in a few ideas for doodled designs. Some of them may resemble Zentangle designs, but in no way do I claim to be efficient at the beautiful art of Zentangle. 😉 When working with a woodburning tool, it's much easier to use straight line designs in a project like this. 
Also in my stash of supplies is a set of Dina Wakley's Scribble Sticks. I've been playing with them on various surfaces, but I hadn't tried them on wood, so why not try them out on Drama-free Friday?! I was very happy with the results. I scribbled on the pigment and then activated it with a Pentel Waterbrush. The color lightened as it dried, but I love the effect! So far, everything I've tried with the Scribble Sticks has been successful. I find them to be unlike anything else in my art supplies and I really hope they bring out more colors!
To complete the houses, I painted the outer edges with Dina Wakley Acrylic Paint in the color Umber which framed the houses very well. I also added some words from the Tim Holtz Big Chat Sticker pad. (I always add a little Tacky Glue to the stickers, especially when attaching to wood.)
I like to protect my art whenever possible. Because the Scribble Sticks are water soluble, I wasn't sure what to use. So, back to experimenting! I sprayed 2 light coats of Kyrlon Matte Finish 1311 over each piece and when it was fully cured, I brushed on a coat of water-based varnish. It worked beautifully!
Below you can see how the HotMarks and Versa Tools are packaged. I really like having more than one tool because it allows me to change points quicker. One can be cooling while I'm using the other. It keeps my Muse happy because she's not a very patient little thing!
P.S. Please leave a comment below.