Mixed-media Sticker Paper Fun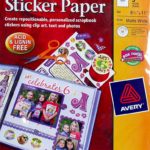 I love buying office supplies for some reason, and I enjoy figuring out ways to use them. Sticker or label sheets are great to use for all kind of colorful things. You'll see in the video that I used full sheets of Avery White Sticker Paper. It's great because the repositionable adhesive becomes permanent in minutes which allows you just enough time to correct a mistake.
When working on a sheet that has an attached adhesive, I tend to work with art supplies that aren't too "liquidy". I prefer heavy body acrylic paints, rubber stamps, stencils, Moonlight Gel Pens by Sakura and fluid paints applied with Fineline Bottles. 
I began by randomly stamping the background with texture stamps before scraping on several colors of paint. The goal is to keep each layer very thin so it dries quickly and doesn't compromise the adhesive. I like metallic paint, so I included several different colors on the various sheets. By the way, these sheets will be cut into strips so they are very busy looking. I wanted some of
everything to show on each strip so it was important to fill all of the space.
Adding stencil designs is great for sheets like this, too. Use a make up sponge with a small amount of paint to keep it from seeping under the stencil. You can add even more fun by outlining the stencil designs when the paint is dry.
I love adding my Fun Faces Rubber Stamps images on these sheets. It's fun to see them peeking out from behind the layers. Everything you add creates interest in the finished sheet.
One of the last things I usually add are large designs with fluid paint in a Fineline Bottle. If you have problems using paint pens over acrylic paint, try using the Fineline Bottles of paint instead. The 20 gauge tip makes a very fine line.
And, lastly I throw some paint on the sheets. 😉 Just thin acrylic paint with water and splat it over the sheet. Be careful because you can overdo the splats. 
Perhaps the greatest challenge when creating sheets like these is to make them different from each other. Contrasts in color and design will make using them much more fun. 
Click on the images above and below to see the entire sheets of painted and embellished sticker sheets.
After the sheets were fully dry, I sliced them in to strips of various widths and used them to create the 4 note cards you see below. Be sure to click the images to get a good look at them. I built the card front on white card stock and then applied them to a colorful pre-folded cards with ATG adhesive.
I was inspired by some quilt patterns to create a couple of them and I almost always add some fun words with Big Chat Stickers. It's fun to think of other ways to use these sticker strips. They could be great borders for art journal pages.
Be sure to join me for the next Drama-free Friday. It happens every week at 2pm Eastern. I'd love to chat with you! 
Until next time ~
Remember to Get Creative today! It's Easy!
Barb
P.S. Please leave a comment below.